so sonny performed and won the bet! So I bumped in to Sonny and said she won the bet. she went the other way and i went the other way to shoot a MacFalls promo. So after filming, I bumped at Sonny again and asked her if I can have another chance. Then Sonny said "Chad because you ordered the recount there are no more chances."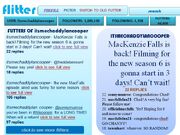 So then it's the night already and the randoms made a prank on me! How dare them! But I forgave them. So the next day I went to Sonny and Sonny said she needs to go to Wisconsin to see her grandma and thanksgiving. So I never got to hear about her since yesterday. So she surfed the web and finally found me and flitter! So to see if she replied in my flitter, there...a pic of my flitter. So @sonnymunroe said Congratulations, Chad. And in most of my flitters, fans say: "GO CHANNY!" but I say NO. Sonny and Chad have spark and Channy doesn't. So now after weeks, she thought about it and said she's giving me another chance. So I would take it. I remember the times when we were dating. Anyways, just wanted to write this blog cuz I'm bored and stuff so yeah!
PEACE OUT! The Chad Dylan Cooper 04:15, May 17, 2011 (UTC)
Ad blocker interference detected!
Wikia is a free-to-use site that makes money from advertising. We have a modified experience for viewers using ad blockers

Wikia is not accessible if you've made further modifications. Remove the custom ad blocker rule(s) and the page will load as expected.