This is the current list of characters who roleplay iCarly.
Current Characters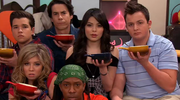 Carly Shay (Moonyandpadfoot007)
Sam Puckett (Roxas82)
Freddie Benson (SeddieMeBadeFan the Gelo Fabian now)
Spencer Shay (Magicboots)
Gibby Gibson (TenCents)
Cort (Jennetteswagg)
Adam (HiRuKasumi)
Stacey Dillsen (ILoveSeddie1234321)
Brad (Itzxlucy)
Wendy (GallagherZammieBlackthorne)
Melanie Puckett (MaryanHPotterFan98)
Missy (Rachim)
The Idiot Farmgirl (Seddie Shipper)
Nevel Papperman (Amythest444)
George The Bra (Kittygirl7878)
Marissa Benson (Sunsummer7)
LeAnn Carter ( Sibuna_Forever)
Ad blocker interference detected!
Wikia is a free-to-use site that makes money from advertising. We have a modified experience for viewers using ad blockers

Wikia is not accessible if you've made further modifications. Remove the custom ad blocker rule(s) and the page will load as expected.